When it comes to finding the ideal holiday destination, holiday lodges have emerged as a top choice for travellers seeking a unique and unforgettable experience.
Offering a blend of comfort, tranquillity, and nature, these cosy accommodations have gained significant popularity in recent years.
In this article, we will delve into the reasons why holiday lodges, particularly those at Sumners Ponds, are a fantastic choice for your next vacation!
Picture a place where you can escape the hustle and bustle of daily life, where serenity meets adventure, and where modern comforts blend harmoniously with the great outdoors. This is the essence of a holiday lodge experience.
Holiday Lodges – A Serene Escape into Nature
Holiday lodges offer a unique opportunity to immerse yourself in the beauty of nature. Far from the crowds of city life, our lodges are situated around Sumners Lake, with access to beautiful woodland, stunning lakes, and breathtaking landscapes.
Home Away from Home
Sumners Ponds takes pride in providing holiday lodges that feel like a home away from home. With well-furnished interiors, fully-equipped kitchens, and cosy living spaces, you can enjoy the convenience of modern amenities while still relishing the feeling of being in the heart of nature.
Unmatched Privacy
Unlike hotels, holiday lodges offer a level of privacy that's hard to match. You have your own space, away from the corridors and elevators, allowing you to unwind and relax in peace.
Activities for All Ages
Staying at Sumners Ponds holiday lodges provides many activities for every family member! From fishing and cycling to hiking on The Downs and kayaking on the local rivers.
Straight from our holiday lodges, you can fish on our lakes and walk to the South Downs, and only a short distance away, there is Southwater Country Park, which offers a range of outdoor and indoor activities that cater to different interests and age groups.
Scenic Surroundings and a Peaceful Atmosphere
Imagine waking up to the sound of birds chirping and the gentle rustling of leaves. Holiday lodges immerse you in the tranquillity of your surroundings, allowing you to escape the stresses of everyday life truly.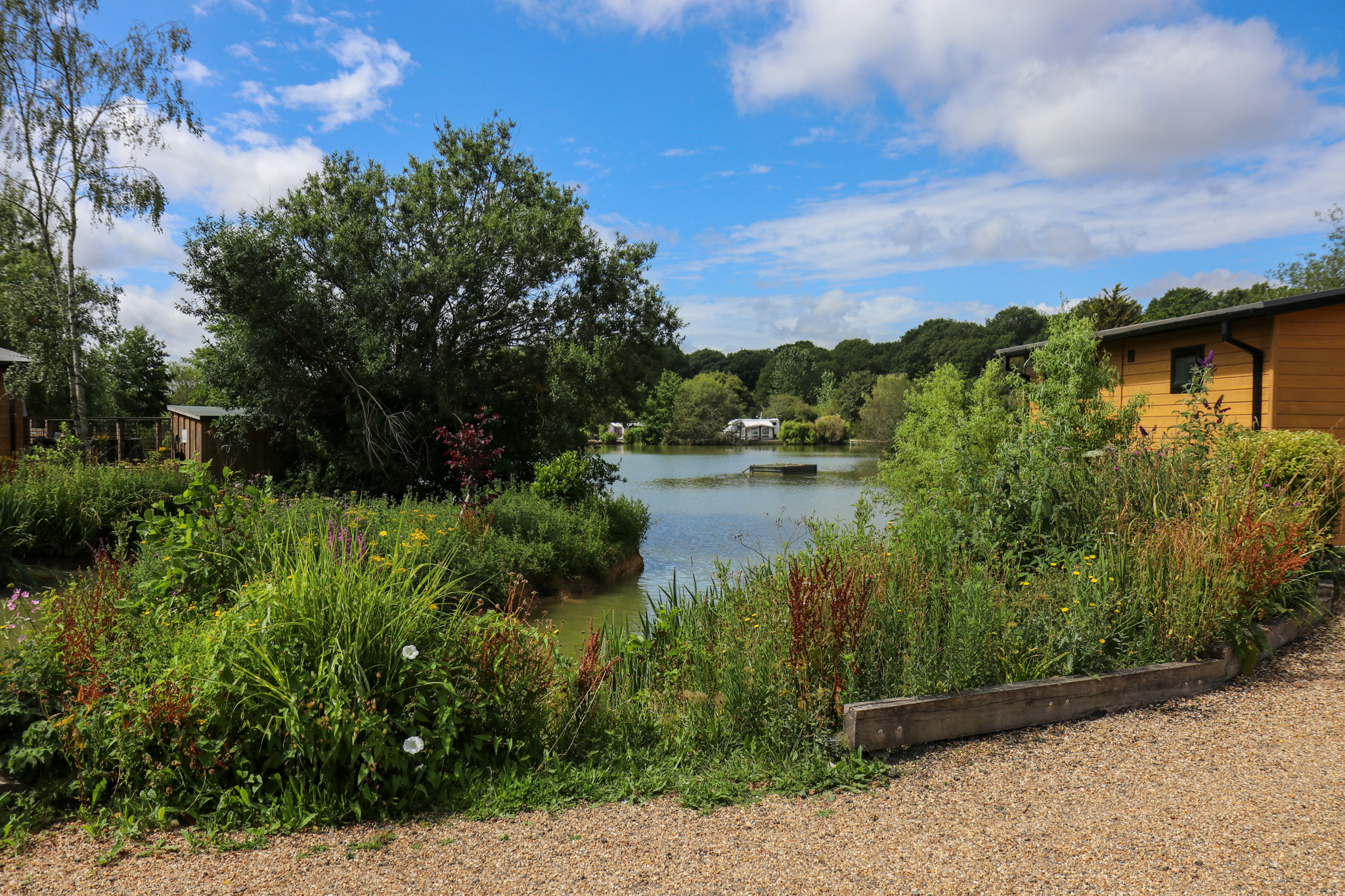 Sumners Ponds: Your Ultimate Lodge Retreat
Sumners Ponds is dedicated to providing excellent holiday lodges and ensures that every aspect of your stay is tailored to provide an unforgettable experience.
Our Different Lodges
Sumners Ponds features four charming lakeside lodges; Lily, Iris, Moorhen, and Grebe, each boasting its own unique character. These lodges are nestled in a picturesque location and come complete with private fishing verandas, adding to their allure. With breathtaking views of the stunning Sumners Lake, these exceptional accommodations create a haven for both fishing enthusiasts and nature aficionados.
These purpose-built self-catering holiday lodges stand proudly overlooking the well-stocked Sumners Lake. The lake offers a variety of fish, including Carp weighing up to 36lb, Perch, Tench, Roach, Chub, Bream, and Pike, making it a prime destination for course fishing. Your stay includes the privilege of fishing from the lodges, while guests can also choose to fish the neighbouring lakes by purchasing a fishing Day Ticket.
Creating Memories with Loved Ones
Holiday lodges provide a perfect setting for bonding with family and friends. Whether it's embarking on a nature trail together or catching your biggest fish yet, these experiences become cherished memories.
Affordability and Value
Holiday lodges offer excellent value for your money. With the ability to accommodate multiple guests, you can enjoy a group vacation without breaking the bank.
Packing Tips for Your Lodge Getaway
When packing for your lodge retreat, remember to bring essentials such as comfortable clothing, outdoor gear, food, and any specific items you might need for the activities you plan to enjoy. And don't forget to bring board games and a good book!
In conclusion, holiday lodges offer a perfect blend of comfort, nature, and adventure. Sumners Ponds' commitment to excellence ensures that your lodge getaway will be a memorable and rejuvenating experience, allowing you to create cherished memories with loved ones while immersing yourself in the beauty of the natural world.
Holiday Lodges – FAQs
Q1: Can I bring my pets to Sumners Ponds' holiday lodges?
A1: Yes, two well-behaved dogs are welcome in any of our lodges at a charge of £25 each per week.
Q2: What amenities are provided in the lodges' kitchens?
A2: The lodges come with fully-equipped kitchens, including essential appliances and utensils for your convenience.
Q3: How can I book a lodge at Sumners Ponds?
A3: Booking can be done through the official Sumners Ponds website or by contacting our reception on 01403 732539.
Q4: Is Wi-Fi available at the lodges?
A4: Wi-Fi is available in each of the lodges. We also have free Wi-Fi at our Cafe by the Lake.
Holiday Lodges – Sumners Ponds Campsite and Fishery
Sumners Ponds Fishery and Campsite in West Sussex is a unique and beautiful spot set in the tranquil countryside amongst 100 acres of lakes, woodland, and pasture.
Perfect for a family holiday, a couple's retreat, or a short break to recoup. Sumners Ponds has many different types of accommodation, from camping and caravan sites to pods, from lodges with fishing to Shepherd's Huts, from Safari Tents to family fields!
The campsite itself boasts high-quality campsite facilities, acres of woodland, a working farm, and fishing lakes. All this in a beautiful and secluded setting which is perfect for just relaxing, or for the more active, exploring the many footpaths and safe cycleways within and around the site.
Our campsite and all accommodations are dog-friendly, which means you can have your four-legged friend right beside you!
We also have The Cafe by the Lake, which is our restaurant and bar that is open to both those staying on-site and the general public. We aim to provide the highest standard of food and service.
Book your stay today:
Tel: 01403 732539
Online: https://sumnersponds.co.uk/staying-at-sumners/
Email: bookings@sumnersponds.co.uk