Looking for 'fishing holidays near me'? Look no further than Sumners Ponds, based in Barns Green, West Sussex!
Carp Fishing Holidays
Our 5 fishing lakes; Sumners Lakes, Farm Pond, Match Lake, Ribbon Lake, and Betty's Lake, are all perfect for catching many different types of fish.
All our fishing lakes stock carp from 8-35lbs, depending on which lake you fish in.
All 5 of our lakes are also well stocked with lots of other fish species, such as perch, roach, pike, bream, and more.
Read our blog for more on carp fishing at Sumners Ponds.
Dog-Friendly Fishing Holidays
Our campsite and fishing platforms are all dog-friendly. The only thing we ask is that they stay on a lead whilst walking around Sumners Ponds!
So bring along your four-legged companion for a lovely walk and then a spot of fishing!
Don't forget to bring shelter, water, and food for both you and your dog.
If you're looking for a more secluded area for your dog to run around in, then check out our Dog Meadow.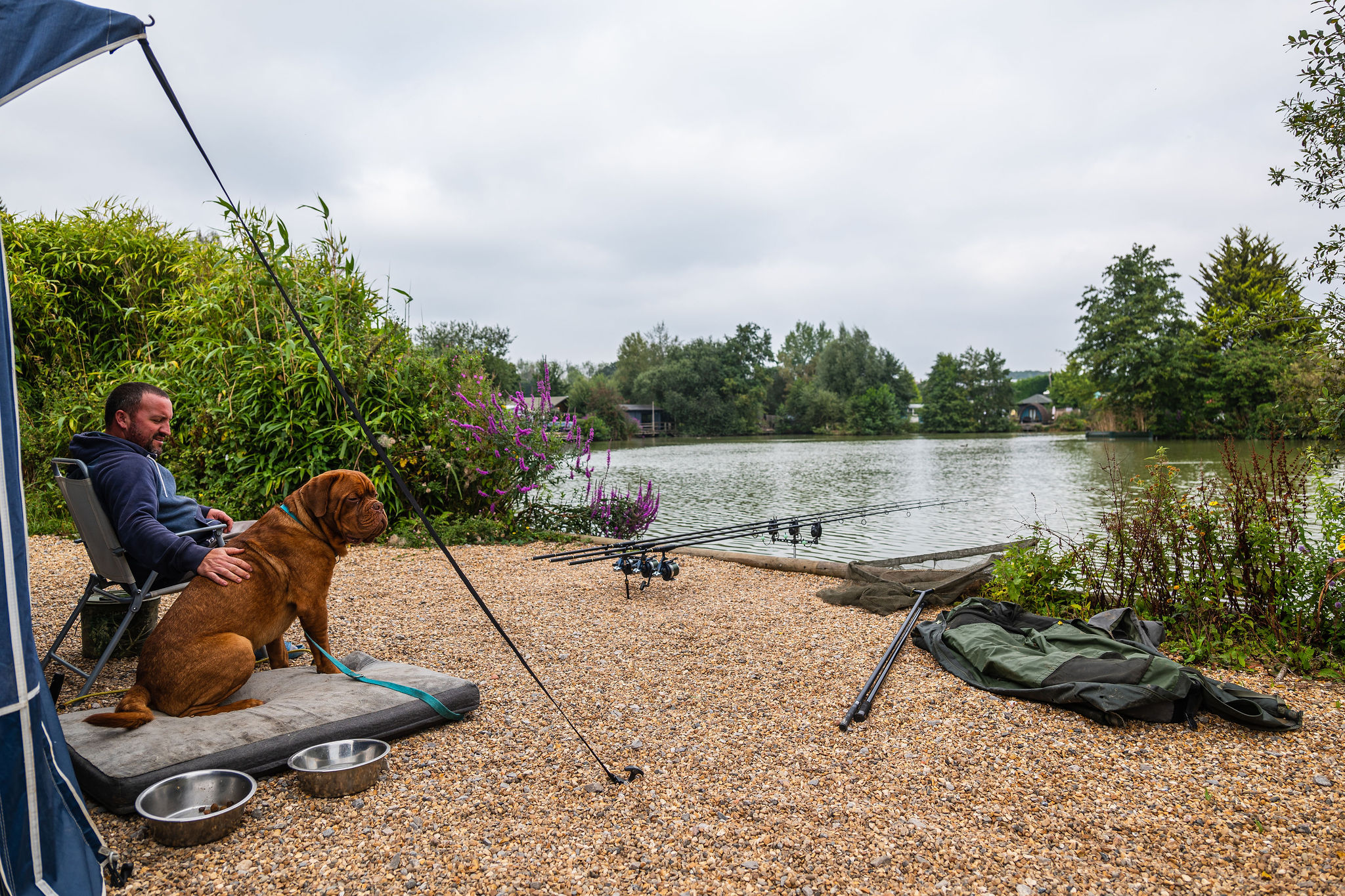 Fishing Lodge Holidays
Our holiday lodges are perfect for those wanting to enhance their fishing experience and add a bit of luxury while they fish. You can choose between Iris, Lily, Moorhen, and Grebe lodges, all of which are situated perfectly around Sumners Lake.
These superb lodges boast fantastic views over the beautiful Sumners lake. They offer a paradise to fishermen and nature lovers alike.
Read more on our lakeside lodges for fishing holidays here: Sumners Ponds Lodges for Fishing
Onsite Tackle and Bait Shop
Our tackle shop stocks everything you need for fishing our waters. So don't worry if you've forgotten something or need to top up for bait buckets halfway through your stay.
All the products we stock have been carefully selected to work well on all the lakes. Our bailiffs are always on hand to give advice on what's best to use.
For more information, visit our Tackle Shop.
Camping and Fishing Holidays
Sumners Ponds Fishery and Campsite, based in Barns Green, West Sussex (near Horsham), is an amazingly tranquil spot, perfectly placed in the countryside.
It is surrounded by 100 acres of lakes, woodland, and pasture, with 5 wonderful fishing lakes.
Our campsite and fishery are perfect for family holidays, couple retreats, fishing getaways, and more.
Sumners Ponds has many different types of accommodation, from camping sites to pods, from luxury lodges to shepherd's huts, from safari tents to family fields!
Amongst the beautiful nature, there is also a working farm and our Cafe by the Lake. You don't just have to fish or camp here, there are charming footpaths that meander through the woods, and cycle paths that lead to the South Downs link.
Our restaurant and bar, Cafe by the Lake, is open to both those staying on-site and the general public. We aim to provide the highest standard of food and service.