At Sumners Ponds, a campsite with fishing lakes in West Sussex, we have 5 beautiful and well-stocked lakes and ponds.
Our lakes are created so all types of abilities can enjoy the amazing sport of fishing in Sussex!
From Betty's Lake, which is great for the more experienced angler, to Farm Pond, which is slightly easier making it perfect for juniors and beginners, we have something for everyone.
Here's a rundown of each of our 5 fishing lakes in West Sussex.
Sumners Lake
At Sumners Lake, experienced anglers can attempt to break their personal best record. The lake is stocked with a variety of fish, including Carp up to 35lb, Perch up to 4lb, Roach up to 2lb, Pike at 19lb, and Bream up to 8lb.
Anglers must use carp cradles to fish the lake, regardless of the type of fish they are pursuing. Along with camping pitches, the lake also offers accommodation with reserved swims.
For fishing tactics of Sumners Lake, click here.
Farm Pond
The lake is a great choice for novice anglers just starting out, but it also offers plenty of exciting opportunities to more experienced fishers. The lake is home to Carp up to 16lb, Tench 4lb, Roach and Rudd to 2lb, Perch to over 4lb, as well as Crucians and Bream.
For fishing tactics of Farm Pond, click here.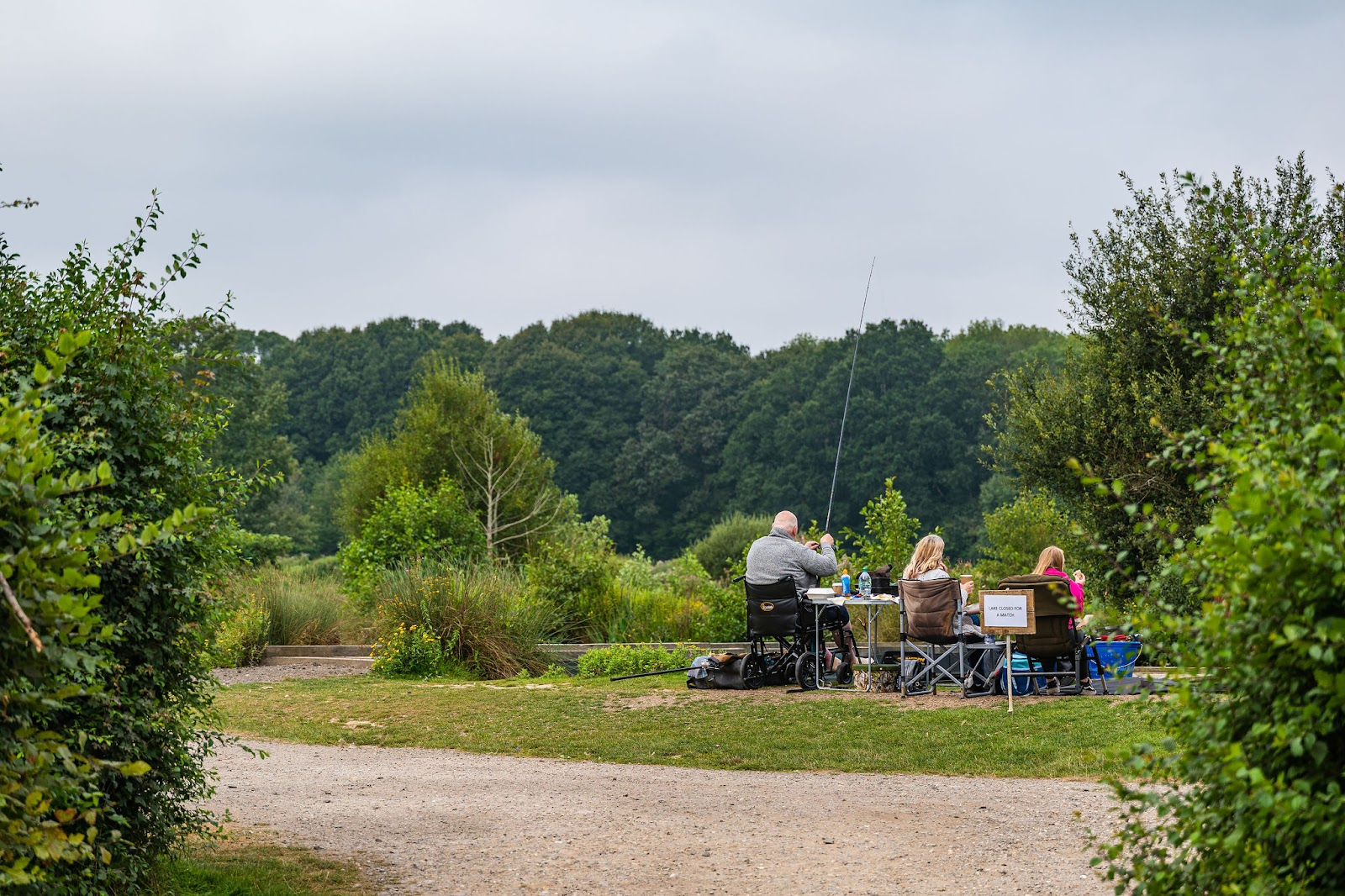 Match Lake
This 3.5 acre water body is located separately from the campsite and is highly popular amongst anglers looking to catch multiple Carp.
It offers ample opportunities for both match and day ticket fishers, with Mirror and Common Carp averaging between 8-10lb and the biggest at 22lb, Chub at 6lb, Barbel 10lb, Crucians 2lb, Tench, Bream over 4lb and Roach over 2lb.
Carp cradles must be used when fishing this lake, regardless of the species being targeted.
For fishing tactics of Match Lake, click here.
Ribbon Lake
Ribbon Lake is a winding stretch of water that is home to a variety of fish species, including Barbel up to 8lb, Chub up to 6lb, Tench, and Golden Tench up to 4lb, Perch up to 3lb, Bream up to 4lb, Roach up to 2lb, and Crucian up to 2lb 8oz.
In addition, recently-introduced native English Carp born and raised on site have grown to 12lb, making them well-suited for novice anglers.
This lake draws in many anglers, particularly those who enjoy match fishing and is great for those just starting out or for parents and children to take part in together. A lot of our regulars are drawn to this particular water due to its unique design and its large island with five spots to fish from.
For fishing tactics of Ribbon Lake, click here.
Betty's Lake
This lake is only for experienced anglers, as it is stocked with a variety of fish, including Redmire Common & Simmonds Mirror Carp, Sussex Scaley's, Priory Fish Farm stock, Pike, and Roach.
The peaceful, picturesque area features three islands and a number of comfortable swimming spots, making it an ideal spot for those looking to target Carp.
All anglers will need a Carp cradle to fish this water, regardless of the fish they are looking to catch.
For fishing tactics of Betty's Lake, click here.
Fishing lakes in West Sussex – Sumners Ponds Fishery and Campsite
Sumners Ponds Fishery and Campsite in West Sussex is a unique and beautiful spot set in the tranquil countryside amongst 100 acres of lakes, woodland, and pasture.
Perfect for a family holiday, a couple's retreat, or a short break to recoup. Sumners Ponds has many different types of accommodation, from camping and caravan sites to pods, from lodges with fishing to shepherd's huts, from safari tents to family fields!
The campsite itself boasts high-quality campsite facilities, acres of woodland, a working farm, and fishing lakes. All this in a beautiful and secluded setting which is perfect for just relaxing, or for the more active, exploring the many footpaths and safe cycleways within and around the site.
Our campsite and all accommodations are dog-friendly, which means you can have your four-legged friend right beside you!
We also have The Cafe by the Lake, which is our restaurant and bar that is open to both those staying on-site and the general public. We aim to provide the highest standard of food and service.
Book your stay today:
Tel: 01403 732539
Online: https://sumnersponds.co.uk/staying-at-sumners/  
Email: bookings@sumnersponds.co.uk